Are you always struggling to find enough caregivers to fill all your shifts?
You may be posting on every job board out there… but if you don't have a winning job post AND an effective follow-up process, you're losing hundreds of potential caregivers.
Register for this interactive workshop to learn how to:
Write a winning job post
Differentiate your agency from the competition
Get caregivers to come in and interview quickly
About the Presenter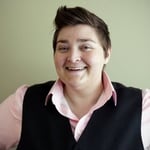 Jennifer Waldron, VP of Sales and Business Development at CareAcademy, has over a decade of experience in sales and business development with senior care owners and operators.

After being a professional caregiver working in a memory care community, Jennifer was driven to help senior care businesses meet caregivers where they are while helping business owners find operational efficiency through education technology.