Earn extra income by recommending the fastest growing and award-winning caregiver training platform!
Education and mobile training in today's home care market is an absolute necessity.
With CareAcademy's new Referral Partner Program anyone who serves private duty home care agencies can recommend our training and get rewarded.
Referral Partners earn generous commissions for every referral that signs up.
Our new Referral Center takes care of all the tracking for you, plus we provide banner ads, content, emails, flyers, and social media posts to tell your network and customers about the benefits of CareAcademy mobile training.
About the Presenter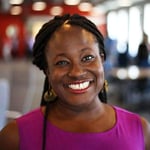 CareAcademy CEO Helen Adeosun is passionate about caregiving and the impact that the right caregiver can have on families.
As an educator and workplace trainer, she has had a career in driving outcomes for adult learners and finding meaningful ways for them to engage in learning.