As a home care agency owner, you're working with relatives of loved ones all day. When life is interrupted with an event that changes everything, support for the family and the agencies' caregiver is critical.
Join Cheryl Hammons from Veterans Care Coordination to learn about those major life changes, the support role of the agency, how to care for your caregiver, and ways to help the family find their new normal.

About the Presenters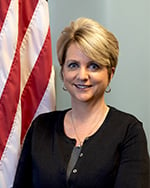 Cheryl Hammons is an experienced home care professional, published author, and frequent speaker. She has held several roles throughout her 11 years in the home care industry, including training, support, and operations. She currently serves as Strategic Partnership Director at Veterans Care Coordination, where she focuses on building value-driven relationships, developing revenue-generating programs, and creating educational materials for home care partner companies. Cheryl is the author of Embracing a New Normal: Dealing with Grief and Respecting Religious Differences in Home Care.